ERUI VALUE OF THE SERVICES
The industrial product market in the oil and gas field has a huge volume,
but problems such as high procurement cost, difficult quality control,
inventory occupation and long procurement cycle have become major problems this industryfacing.
With the development of Internet technology, online sourcing and procurement will become a global trend. Under such opportunities and challenges,
e-business emerges with the mission of industry development.
Build efficient, transparent, low-cost and high-quality new procurement mode,
reduce the procurement cost of enterprises, innovate marketing service mode,
bring quality products for customers at the same time, but also build a "1+7+X" service mode
Guarantee

perfect quality control
and guarantee service

After-sales

on-site installation and
after-sales service

Support

talents and technical
support service

Data

big data service for global
oil and gas energy industry
PERFECT QUALITY CONTROL SYSTEM
Service quality control

We have a good co-operation with global top-class quality inspection companies(SGS/BV/DNV) to boost our quality control system to the highest level.

Long-time warranty

Quality assurance covers products whole life cycle, and depending on different products, warranty period can be extended with free Return and Exchange.

Please contact erui directly if there are any quality problems

With a severe quality control system, we promise that you can contact Erui directly if there are any quality problems to solve quality problems which are difficult to deal with once happened in traditional trade.
QUALITY SYSTEM CERTIFICATE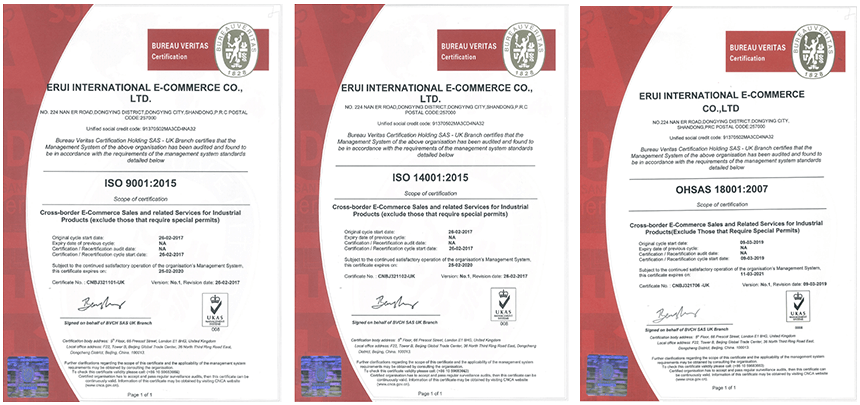 "QUALIFIED SUPPLIER CERTIFICATE" ISSUED BY ERUI AND SGS

OUR COMMITMENT
Erui has established perfect quality control system and implemented strict quality management procedure. Beside strict quality inspection at each manufacturing stage, third party inspection by international authoritative organization(s) is performed to ensure conformity with national/international standards.
We attach great importance to product quality and require full-staff participation in quality management (of both suppliers and products) to ensure zero defects in products.
Our commitment to quality: we have been devoted to improving ourselves to meet and exceed customers' expectations.
We strictly comply with the state and international HSE laws & regulations, rules and other requirements; we show respect to local custom &religious beliefs; we provide customers with premium products and services; and we make unremitting efforts to prevent accidents and environment pollution, whatever form.
Staffs is the wealth of an enterprise and society. It is our goal to provide them with favourable working environment, to develop safe, healthy and green corporate culture and to protect every employee from hurt of any form.
Our HSE commitment: To prevent accidents and environment pollution, whatever form and to meet and exceed customers and interested parties' expectations.
Set up spare parts warehouse for key customers to solve the inventory pressure.
We has set up service stations in 13 countries,
including Saudi Arabia, Oman, Kuwait, Libya, Colombia, Russia, Egypt and Peru.
EQUIPMENT INSPECTION

Issue inspection reports, export equipment maintenance,
spare parts replacement recommendations;
provide customers with short and medium
term equipment diagnosis and guidance.

MEMBERSHIP EXCLUSIVE SERVICE STATION

Provide customer site installation, training,
testing, spare parts supply and other services, resident service engineer;
assist in dealing with after-sales problems.
VALUE-ADDED TECHNICAL SERVICE AND PERSONNEL SERVICE FOR MEMBERS
Abundant technical talents

Not only do we have more than
3,000 full-time engineersfor oil
and gas industry, but also integ-
rate the experienced technical
and service engineers at home
and abroad, to devote ourselves
to providing you with the most re-
asonable, efficient, quick solutions
and technical support services.
STRONG TECHNICAL CAPACITY
We have established cooperative relationship with more
than 30 universities, with 16 scientific research laboratories,
over 1,500 scientific achievements, over 1,000 patented
technologies, and strong technology strength.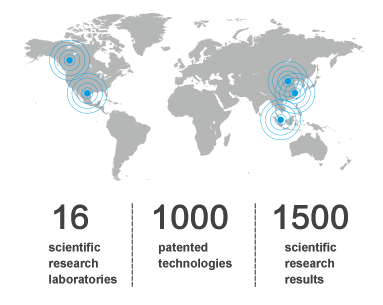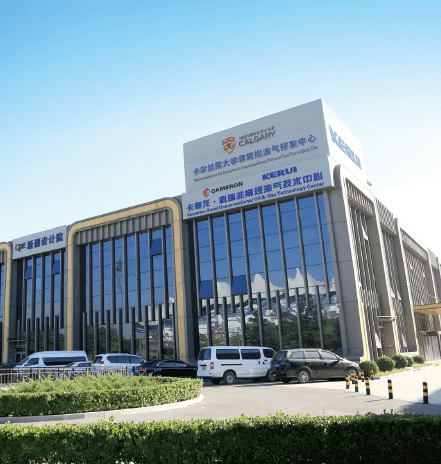 SOLUTIONS AND TECHNICAL SUPPORTS
We can help you design the best development programs for new oil fields, design production optimization programs for old oil fields, extend service life of oil field development, develop unconventional oil and gas fields, provide completion designs from design to delivery, as well as diagnose and solve production problems in oil fields. No matter what kind of problems you are encountered with in fields of oil and gas, please contact us.
The detailed services are as follows:
SUPERIOR RESOURCES OF PERSONNEL SERVICES
Victor International Institute of Petroleum Training (VIPT), in cooperation with more than 20 global
renowned universities and enterprises, including the University of Calgary, China University of Pe-
troleum, Petroleum Development Oman (PDO) and Petróleos de Venezuela, S.A. (PDVSA),
possessing over 1,000 experts and professionals from over10 countries, modern training classrooms,
online recording and broadcasting classrooms, experts studios, electrochemical simulation teaching,
training base for oil and gasequipment, and other teaching resources. We have established the glo-
bal web portals – "Oil think-tank", in which global talents information in oil and gas industry, training
resources information, and engineering & technology information are integrated, with theapplication
of "big data" and "cloud services", to provide customized talents solutionsfor customers, through
talent cultivation, talent hunting and talent deployment to solve the problem of talents and technology
with high efficiency and precision.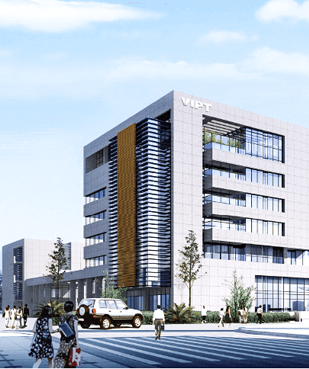 CONTENTS OF PERSONNEL SERVICES
Talents demand services
Position
Hr Service
International Service Cooperation
High-End Talent Hunting
Talent training
High-End Training Courses of the University of Calgary
Oil & Gas Training
Language Training
VIPT (Victor International Institute of Petroleum Training) Courses
INTERNET INDUSTRY, BIG DATA FORECASTING AND BUSINESS INTELLIGENCE ANALYSIS
Supplier quotation, member database, commodity database, CRM, inquiry quotation system, can provide customers with quick quotation service
Quick search
accurate match
Information datamation
quick inquiry & quotation
Optimal supplier
recommendation
Customized
procurement plan
Conventional wearing parts and consumables of Chinese brand for drilling and repairing machine, stimulation,
wellhead well control and compressor can provide quotation service as soon as 4 hours, such as mud pump accessories,
valves and manifold, etc.. We provide the 24-hour comprehensive solution and quotation support for large-size components and solutions in the oil and gas field.
At the same time, according to the accumulation of customer data, we can match the better products and suppliers through big data,
broaden the range of customer product selection, and also realize the judgment of purchasing behavior and trend and the intelligent
prediction and recommendation of the optimal solution, to customize product procurement plan.
EFFICIENT SUPPLY CHAIN SERVICE E-PLATFORM IN OIL & GAS INDUSTRY
Erui International Electronic Commerce Co., Ltd. is the first cross-border industrial Internet platform in China for providing industrial products in the vertical
sector of Oil & Gas field. With the mission of creating an efficient supply chain, and with the assistance of Internet, IoT ( Internet of Things ) and big data,
Erui is committed to reducing industry costs and improving industry efficiency continuously by providing customers with products, technologies,
platforms, supply chain finance, warehousing & logistics, digital marketing and other full eco-system services.